Back to School Checkups: Sooner Rather Than Later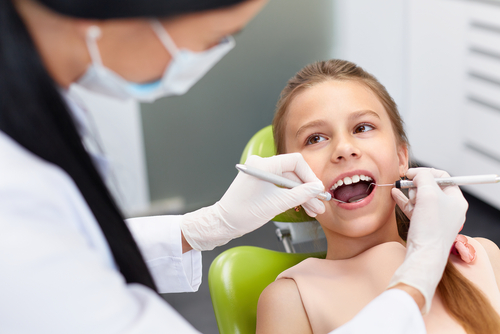 There are many things that you need to include in your child's back to school checklist. The list can include need new supplies, new clothes, an updated list of shots and vaccines, and a plethora of other things. Unfortunately, one very important item sometimes gets overlooked when it comes to the back to school itinerary. That item is your child's oral health. It should never be left off the list, as a dental checkup is just as critical as a physical.
In fact, many states are now requiring it as prerequisite to start specific grades. This is due to the rising rates of tooth decay in small children. According to the Centers for Disease Control, tooth decay affects U.S. children more than any other chronic infectious disease and 19 percent of children ages 2 to 19 years old have untreated tooth decay. In order to curb these increasing numbers, it's important you include your child's oral health amongst the many items already on their back to school checklist.
Their time during school hours is very valuable.
They're learning important subject matters that will be the backbone to their higher education, as well as crucial social skills amongst their peers. However, if they're experiencing pain in their gums or teeth, it can be quite distracting, taking their full attention away from their teacher's lesson plan or even the exam right in front of them. It's not difficult to imagine that poor oral health is linked to poor grade results. Not to mention, if they do need a cavity filled or some other kind of dental work performed, they'll need to miss class time, which is doing them a disservice, as every minute is vital when they're in class!
Your child requires a back to school checkup.
Every appointment will consist of general cleaning and flossing. We'll be sure to clean every gap within their teeth to prevent any semblance of plaque. We'll also check to see if there are any dental problems going on inside their mouth already. This is the best way to prevent future dental emergencies: Stop them when they're only minor problems. It's much easier for your child to get a filling as opposed to a root canal. The last part of the appointment is fluoride treatment. This will keep their teeth strong as it helps strengthen their enamel. It's important to keep those pearly whites strong as they'll need to fight off a lifetime of sugars and acidic attacks from the foods they eat.
Perhaps the most valuable part of a scheduled checkup is at the end. Not only do we provide your child with a bright smile, but we'll also provide them with the knowledge to maintain it. At the end of every appointment, our dentists can lay out a comprehensive plan adjusted to each specific child in order for them to keep their oral health in tip-top shape! This will certainly reduce their chances of being a part of that terrible statistic citing that 19% of kids from 2 to 19 will be left with untreated tooth decay.
So parents, make sure your child is scheduled to get their teeth cleaned and looked at before they head back to school. There may still be some weeks left within the school year, but it's never too early to plan ahead. Unfortunately, these summer slots fill up quickly. Don't let your child go untreated before they head back. Sign up with us before it's too late!
See More Staff Members
See More Questions and Answers
See More Testimonials